We hope you enjoy browsing our site. If there is any information missing or anything you'd like more clarification, please don't hesitate to contact us.
We will have 2 Fawn Female and 2 Fawn Males available from our litter born 11/13/2023. Please contact us for more information.
Our waitlist is open with a few spots available to new applicants! Generally, we expect a 3-6 month wait for puppies. For additional information on our adoption process click here.
As breeders we see ourselves as the caretakes. Not only of these sweet, fun, charismatic dogs, but also of your future puppy and of the breed in general. When deciding to breed it's not a matter of just putting 2 dogs together and 63 days later having cute puppies. As breeders we are tasked with Preserving and Improving the Breed standards in Conformation, Temperament and Purpose. We are also tasked with ensuring optimal health of each puppy born. To do this we run genetic tests common to our chosen breed, for Pugs until now that has been PDE and PK Deficiency. With new research and tests recently published and becoming available, this year we began testing for Degenerative Myelopathy (DM) and Primary Lens Luxation (PLL) as well. We also have physical evaluations by our veterinarian done. From there it is our responsibility to review these tests results and match each dog with the best possible mate, resulting in healthy, beautiful, well-tempered puppies.
It is also our job to keep up with continuing education on breeding, our breed specifically, and dogs overall. This means we often attend online seminars and classes offered through various resources like the AKC, Revival, Good Dog and some university veterinary reproductive programs. New studies are conducted and published every few months on things from the efficacy of certain genetic tests to the best age to spay/neuter a dog. We find that participating in continuing education is very important to our breeding program, it helps us better care for our dogs and your future pups.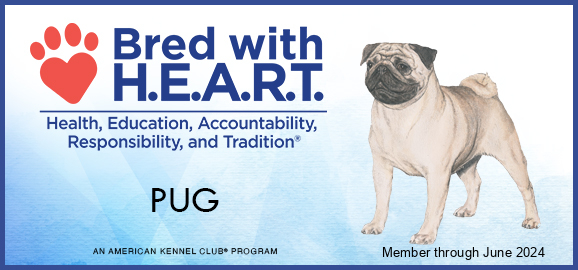 How to Avoid Scams
The easiest way to avoid being scammed is to simply never buy from someone you haven't met in person. That being said sometimes meeting someone in person can be difficult. Make sure you have been in direct contact with your chosen breeder. We have no problem talking to our future families on the phone. We actually prefer it and request a phone interview. It helps us better assess the right puppy for your lifestyle.
(There are also a number of reputable rescue groups who would love to find great homes for the pugs who have been abandoned, abused or surrendered to shelters, from time to time they do get puppies as well.)
When looking for your puppy online, try to follow these simple tips:
Be sure to deal directly with a breeder, not a broker (someone who buys puppies and resells them).
Never send Western Union or money order payments.
If you are told that there will be no refunds for a sick puppy, you are most probably dealing with a puppy mill. A reputable breeder or rescue group will always take the puppy back, regardless of the reason.
Listen to your "gut feeling" – if you think something is wrong, it probably is.